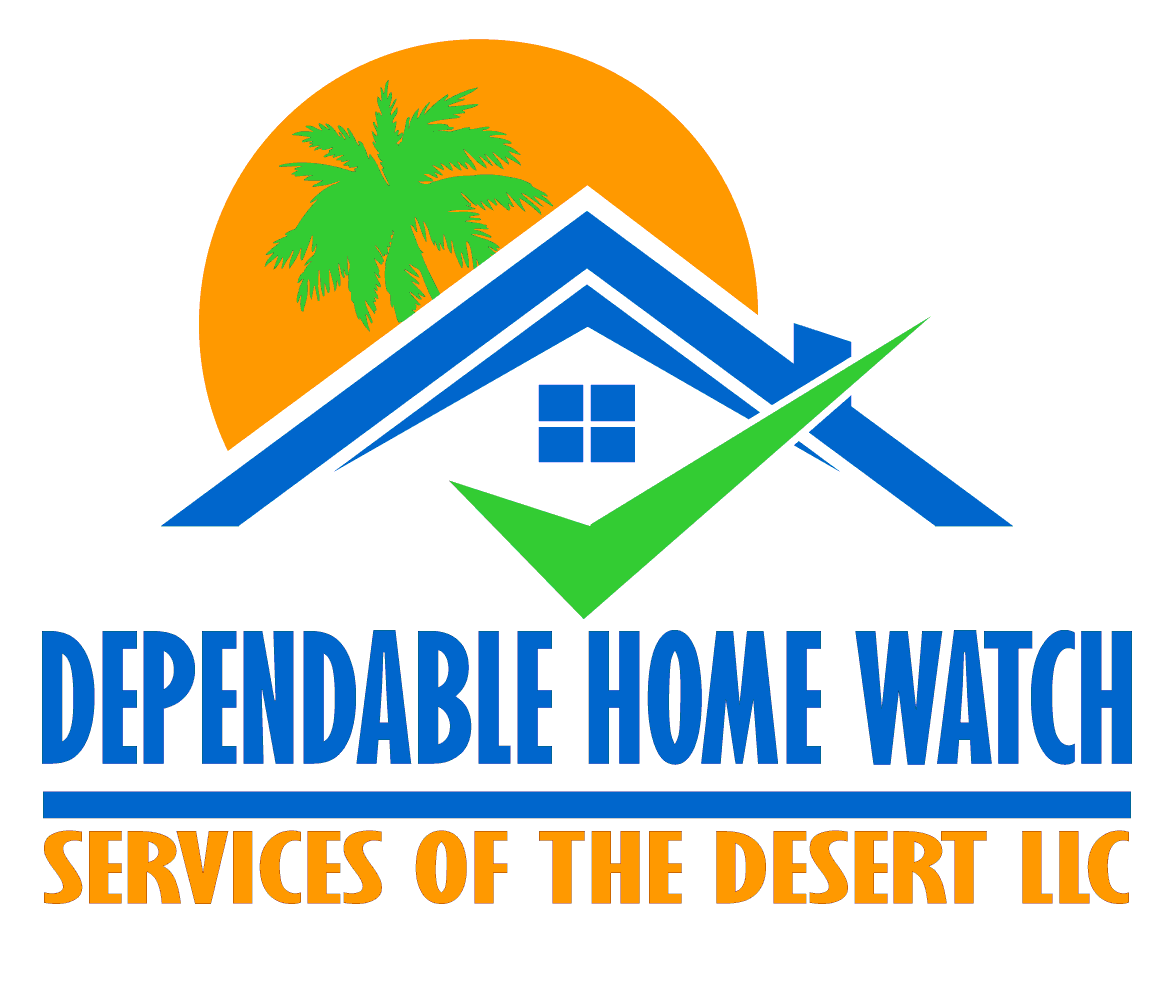 Home Watch Services in Coachella Valley
Your home is in good hands while you are away!
Dependable, Trustworthy & Reliable
Rates/Services
Dependable Home Watch Services of the Desert is excited to announce our rates for our professional services. Our inspection process covers everything needed to effectively and professionally watch your home while you are away. We will notify you immediately if we see anything that is questionable or of concern.

Reminder - most insurance companies require someone to be in your home on a regular basis to avoid the vacancy exclusion that is in most California policies.
Our rates apply to Coachella Valley residential homes located between Palm Springs & LaQuinta. There is a surcharge for travel for clients outside of these areas or if a one way trip to the clients house is 20 miles or more.
All visits include external & internal home inspections (see inspection checklists below) as well as written inspection reports emailed to the client shortly after each visit. The report also includes photos of any problems or areas of concern.
Monthly Rates:
Homes/Condos (under 2499 sq ft)
$100 per month (4 visits/month) - recommended (Best Value & Coverage)

$60 per month (2 visits/month)

$40 per month (1 visit/month)
Homes/Condos (2500-4999 sq ft)
$125 - $150 per month (4 visits/month) - recommended (Best Value & Coverage)

$75 - $90 per month (2 visits/month)

$45 - $50 per month (1 visit/month)
Homes (over 5000 sq ft)
$150+ per month (4 visits/month) - recommended (Best Value & Coverage)

$90+ per month (2 visits/month)

$50+ per month (1 visit/month)
External Inspection Checklist
​
Check all windows and exterior doors to make sure they are secure.

Visual check for evidence of forced entry, vandalism, theft or damage.

Check outside faucets and hoses for leaks.

Removal of newspapers, flyers, packages, and mail.

Visual inspection of roof and gutters from the ground.

Visual inspection of yard/landscaping to assure regular maintenance.

Visual inspection of pool & pool equipment.

Check that irrigation clock system reflects accurate time.

Clean entry way to remove signs of no one at home.

Send Home Watch report after each visit.
Internal Inspection Checklist:
​
Inspect for signs of theft, vandalism, damage or other disturbance.

Run water in all sinks, bathtubs and showers to keep water in the traps from evaporating.

Run dishwasher on short rinse cycle to keep seals from drying out.

Check that all windows and entryways are secure.

Check security system is set and working properly.

Check inside lighting timer is set according to the owner's instructions.

Visually inspect all HVAC serviced areas.

Checks for signs of pest or unusual insect activity.

Note any unusual odors.

Visual inspection of walls ceilings, windows, tubs, showers for evidence of water damage, leakage, mold or mildew.

Check that the thermostat is set at the correct temperature.

Check that freezers, refrigerators and disposals are working.

Visual check of hot water heater and AC pans.

Test Smoke/Carbon Monoxide Detectors and replace the batteries if necessary or if instructed.

Check fuse box for tripped breakers.

Reset clocks and timers is as needed.

Flush all toilets and inspect.

Send Home Watch report after each visit.
These are typical exterior & interior checklists, but we work around our clients' needs & will customize checklists accordingly.
Services: (Fee Required)

$50 per Hour. 1 Hour Minimum including Travel Time. (15-minute intervals thereafter)
Meet with contractors, pest control, cleaning crew, handyman, family members or any other necessary service providers.

Emergency service - security alarm notification agent.

Manage and take care of problems for owners, including project management

Opening/Closing Service

Pre and/or Post Storm and natural disaster inspections (upon client's request)

Welcome Home Services including cleaning, grocery shopping, and other home preparation actions.
Mail Service: Forward mail to owner - $25 per shipment plus postage costs.
Car/Golf Cart Inspection - Start car/golf cart once a month and drive it for 10 minutes. - $25 per month
Key Management - Hold full set of House keys (locked in the Dependable Home Watch safe at our offices) and give to owners, family members or anyone per the owner written request.
Hold the keys: $75 per year

Normal Service fees apply to bring the keys to the client's home or another location, per the client's request.
Other Services:
Dependable Home Watch Services of the Desert will happily work with your vendors, if requested. However, we also partner with several professional vendors who provide excellent services including vendors for housekeeping, handymen, pool service, gardeners, pest control.
Other services can be provided upon request and price quotes made available.
We are very accommodating and can fulfill most requests. In the rare case we cannot, we can refer to one of our specialty vendor partners who can. For your peace of mind, we will be with them every step of the way and will assure you that your home is secured after they leave.
​Dependable Home Watch Services of the Desert is
Licensed, Bonded and Insured
for your protection.
To provide the finest home watch service in the Coachella Valley based on the highest standard of ethics and values and client care. In doing so we will earn the loyalty and trust of our homeowners who will become our lifelong clients and friends because we always place their interests ahead of our own.
​
We are here for you!